You might remember that Mar lent money she had got from the photoshoot to Sabina, to cover the down payment when she moved out with Clara.

I had an irk like it was a real thing that Sabina had to pay back.

Also, Clara's attire is inspired on the drawing that Tailsteak sent to me. It's a little sign of appreciation.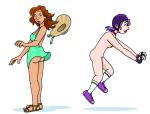 .

Maybe some day Pearl will appear like in the drawing too.